Honduras, September 11 - 22, 2006
"Forgotten Land, Forgotten People"
My 2 week trip to help photograph and document many of Eastern Honduras' remote village airstrips.
Ground photos by John Ford & Sean Donnelly, aerial photos by John Ford, www.lesvants.com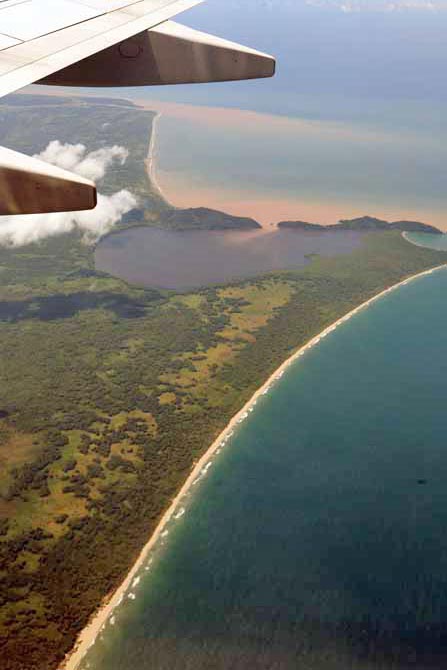 Over the coast of Honduras and inbound to San Pedro with Sean Donnelly, President and Founder of Missionary Air Group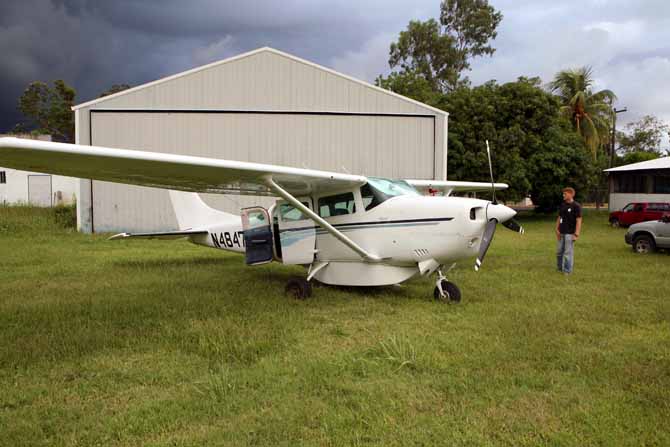 After clearing customs and paying the "usual fees" in San Pedro we flew to LaCeiba in Wes' Cessna 206. In this shot we are preparing for our flight from LaCeiba to Ahuas where the Mission Hospital is located and which will serve as our "base".
Ahuas, located on the Patuca River in Eastern Honuras, LaMosquitia Region.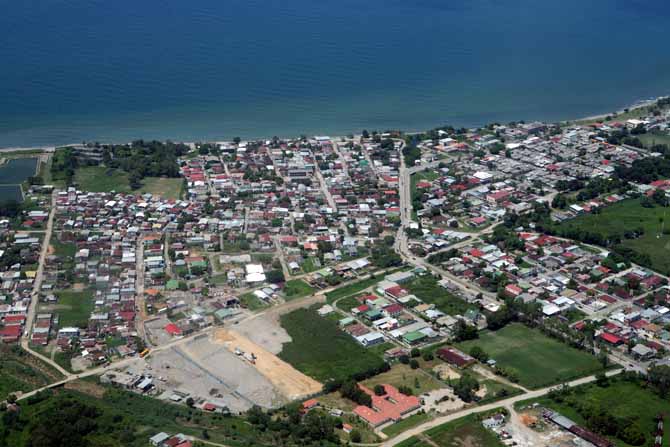 Leaving LaCeiba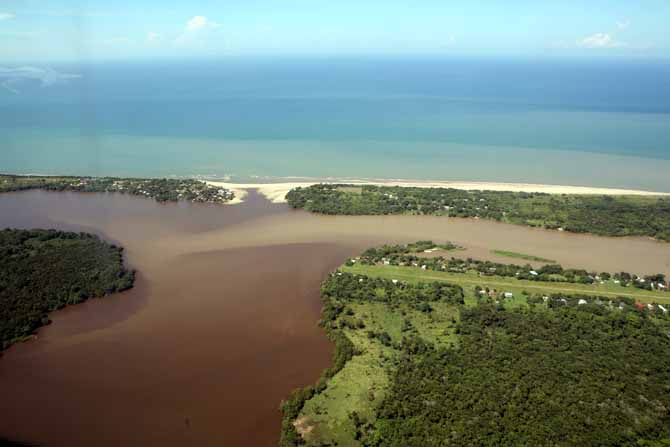 Enroute to Ahuas over costal Honduras in the LaMosquitia Region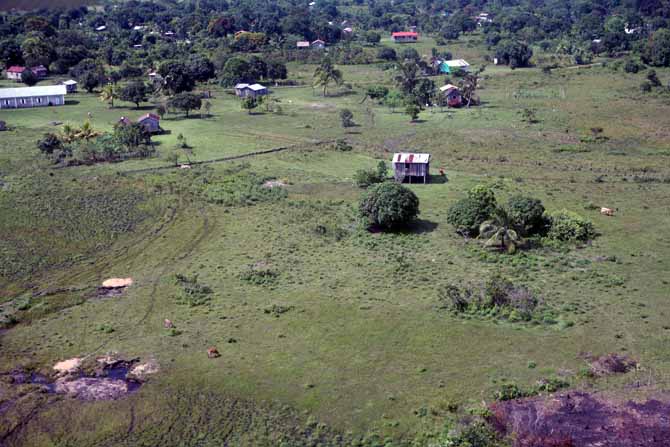 Inbound, overflying Ahuas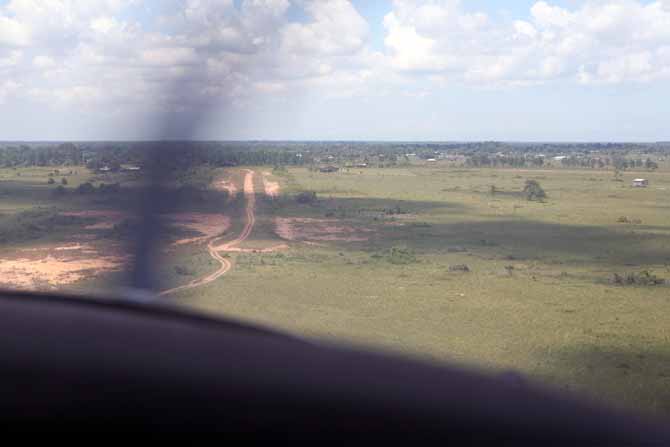 On final approach for Ahuas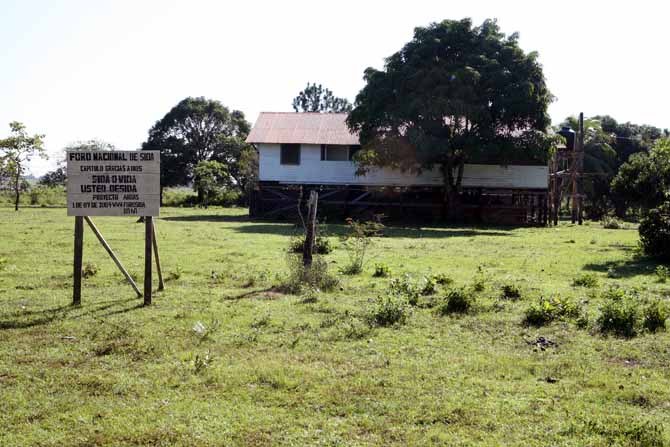 The Wiles' home, adjacent to the Ahuas runway is where we'll be staying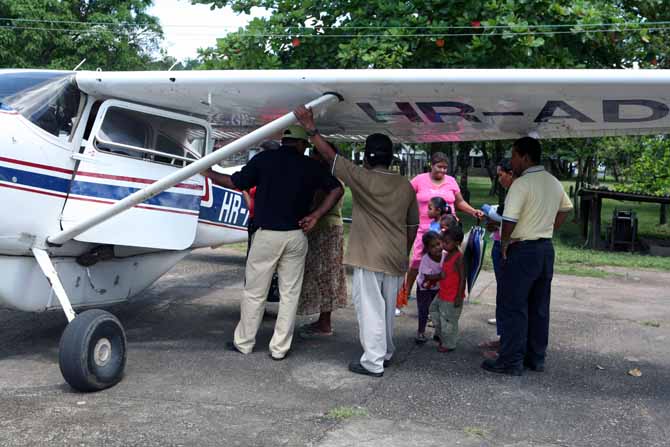 Not wasting any time on the morning of our arrival in Ahuas we're preparing our 1st medical flight / transportation to Puerto Lempira, the "capital" of La Mosquitia' via Jarle's Cessna 185.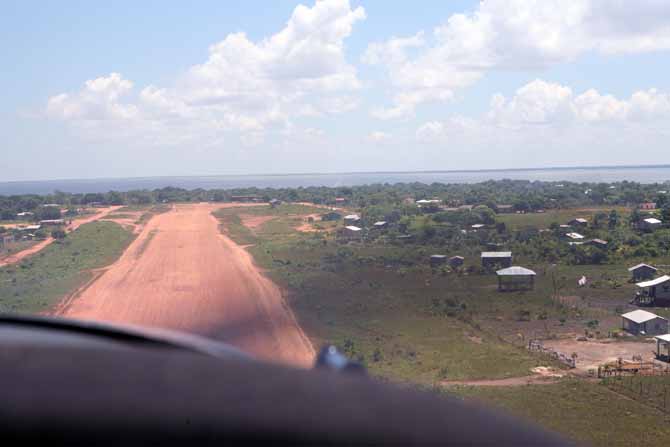 Landing in Puerto Lempira .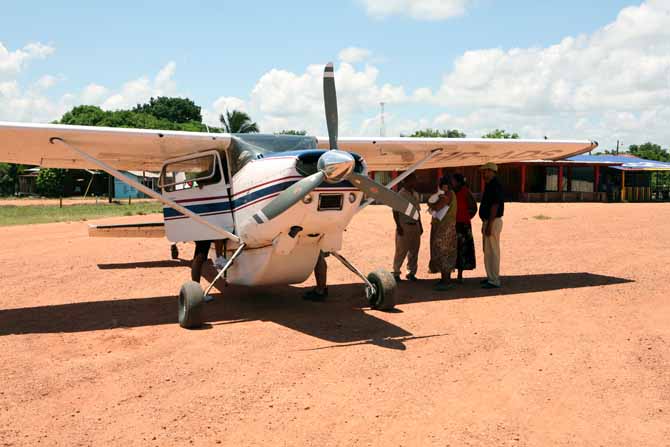 After dropping off our passengers we get another medical request to fly some folks out to Bara Putuka, a village along the coast.
In Honduras the small aircraft is in high demand and rarely can you land without being asked to fly passengers, medical supplies or other cargo on your outbound leg if the aircraft has any room on board. We're always fully loaded (and then some)!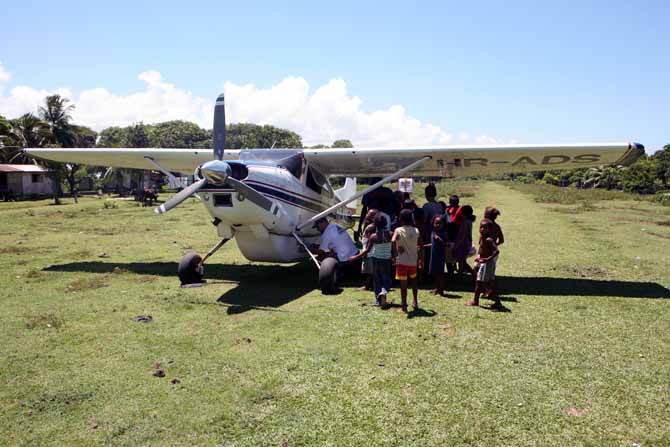 At Bara Putuka Jarle unloads passengers and cargo while the usual "welcoming committee" looks on.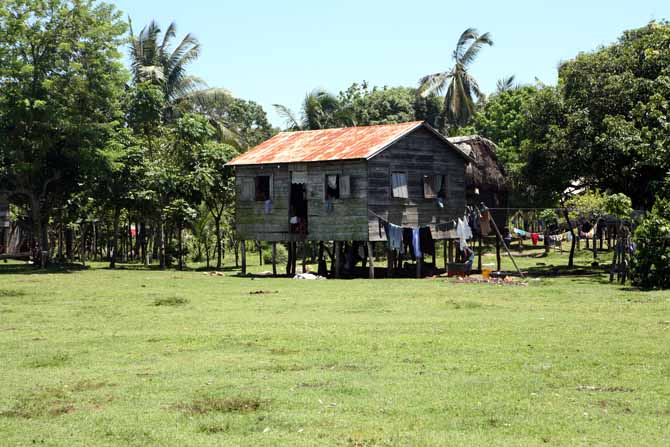 A typical Bara Putuka home just feet from the runway!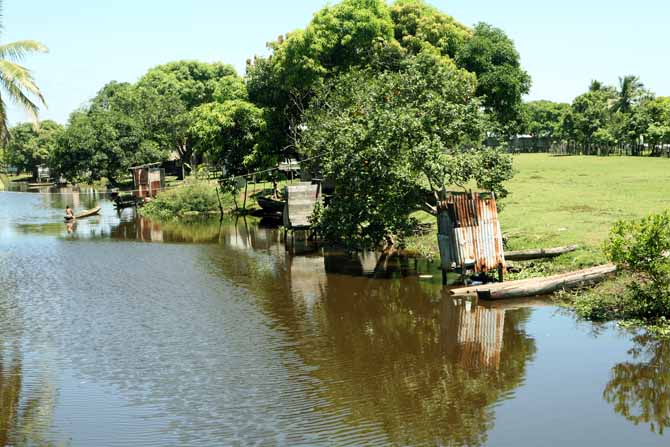 Bara Putuka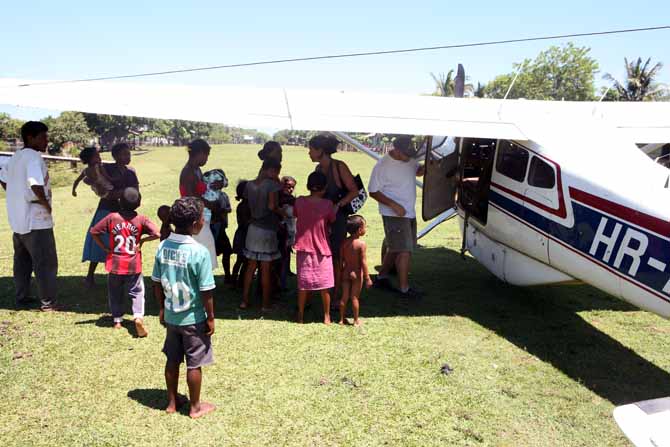 Preparing to leave Bara Putuka in the Cessna 185.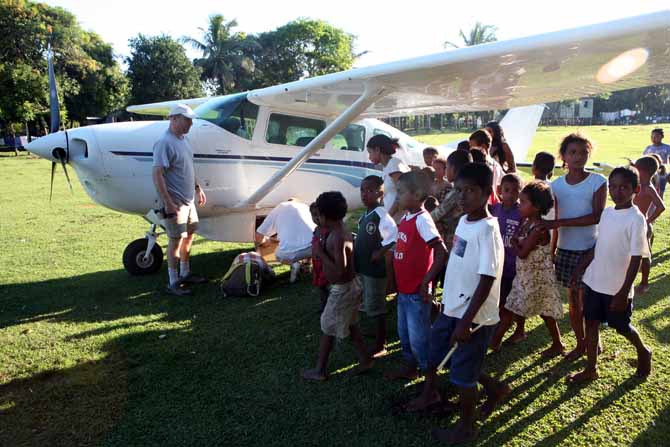 As soon as we returned to Ahuas in the 185 we had another medical flight back to Bara Putuka so here we are again. This time in the 206. While here we walk to town where the cargo ship is docked. The ship has our 2000 gallon fuel supply of av gas so we'll check it out.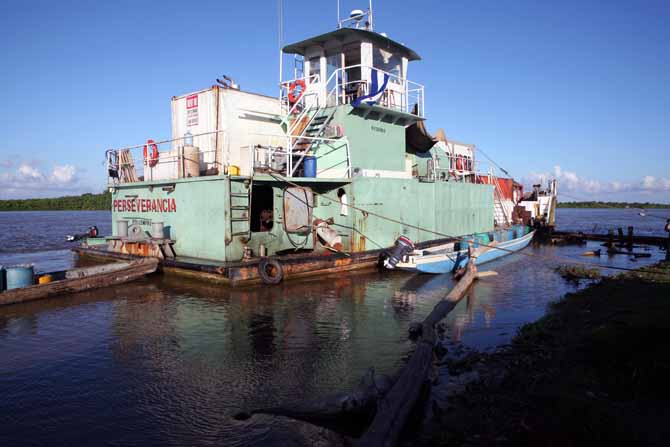 In Bara Putuka our av gas is being pumped into 50 gallon drums and loaded onto dugout canoes where they will make the overnight trip 20 miles up the Patuca River to Ahuas, our home base.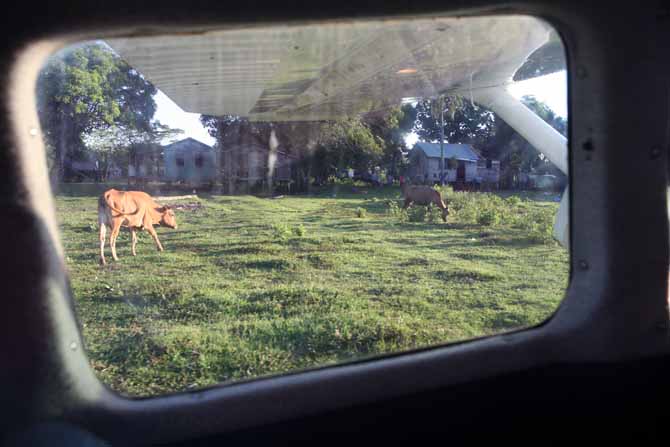 Leaving Bara Putuka, now if we could just get the cows, horses and dogs off the runway!!!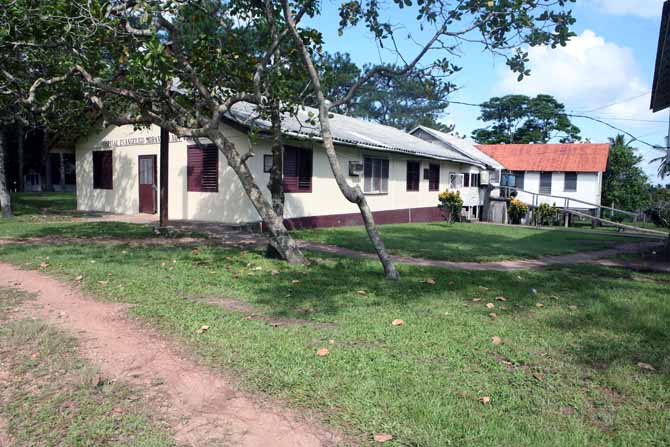 The next morning, back in Ahuas, we visit the hospital compound
Hospital, rear view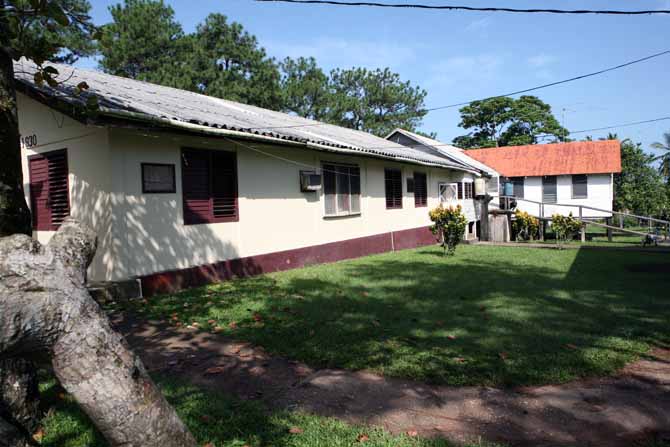 Ahuas Hospital, side view.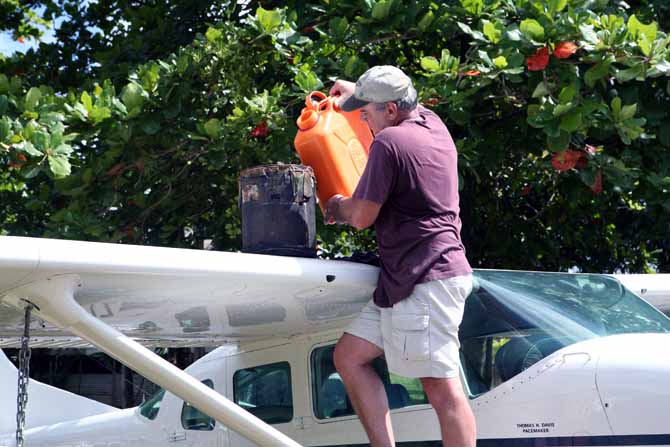 On the 3rd day in Honduras I fuel the plane as we prepare to visit 6 of the many village airstrips in Eastern Honduras. Today we'll inspect the runways and photograph the villages / runways from the air.
(Where's the fuel truck when you need it?)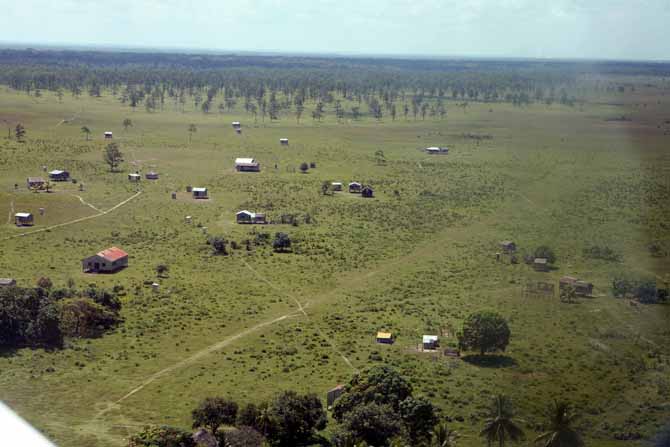 Our 1st stop, Warunta (Where's the runway??)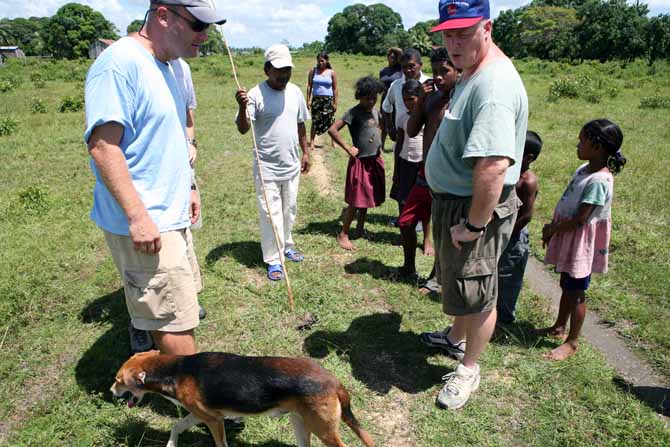 Here it is! We made it in ok but there's a hole 3 feet deep that we didn't see. Jarle and Wes are checking it out. The villagers will repair it before we take off.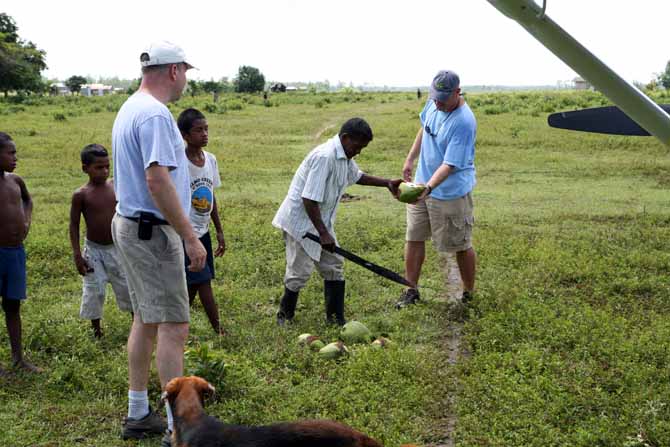 Before we leave Warunta we receive the customary send off. The village elders chop off the sides of coconuts to give the visitors a refreshing drink of warm milk, yum. Sean watches as Jarle is being very careful around that machete!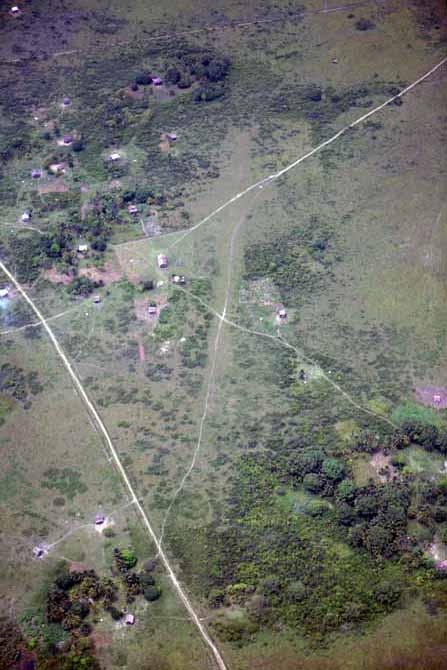 The village of Tipi (I think)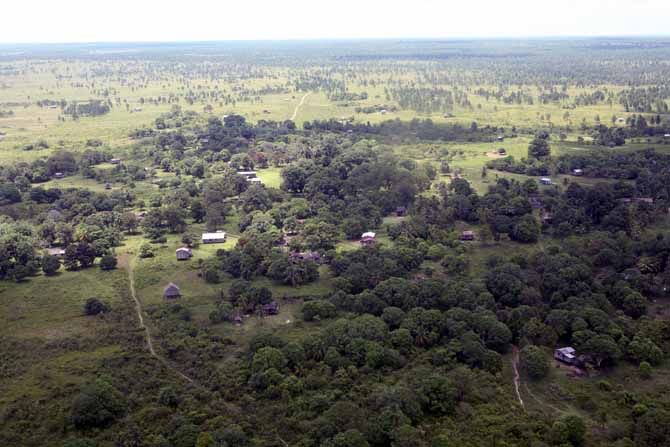 Next village, Coco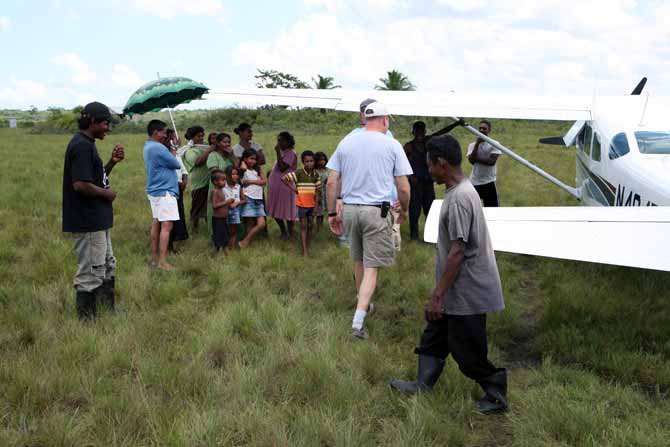 Next welcoming committee (love the umbrellas)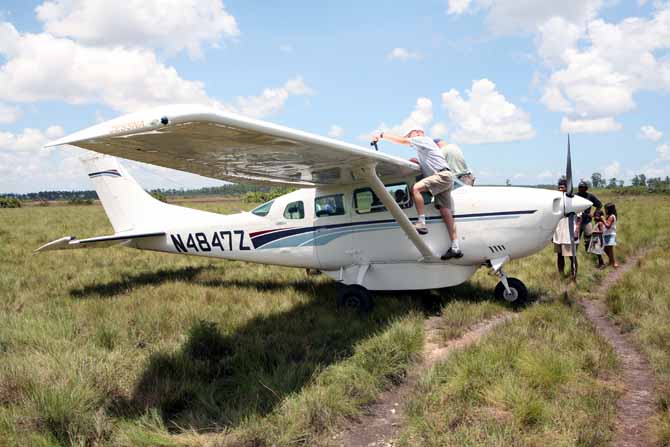 Sean & Wes check our fuel before departing.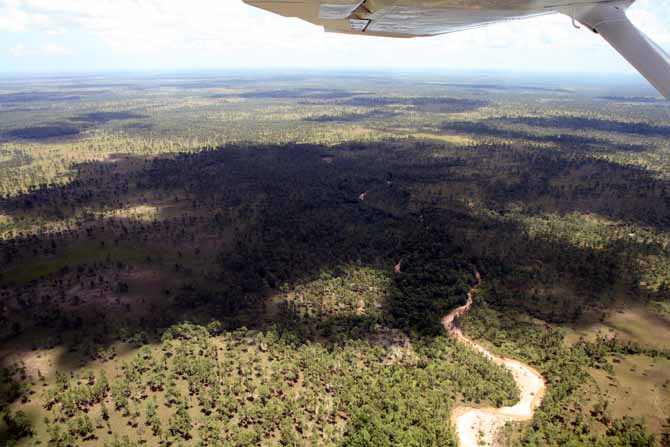 Enroute to our next stop, Wauplaya.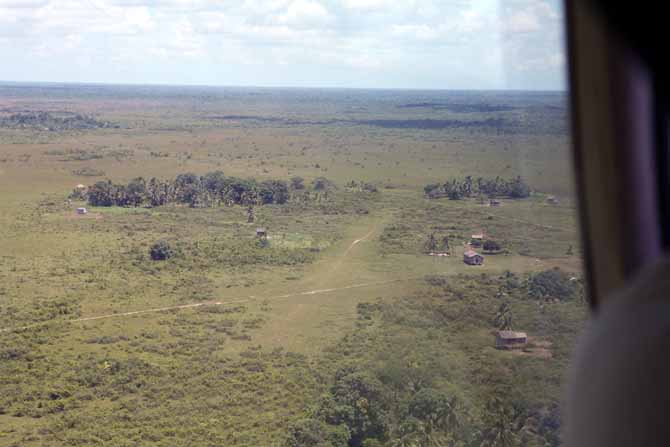 I think that's Wauplaya and the strip. (What no runway markers or lights?)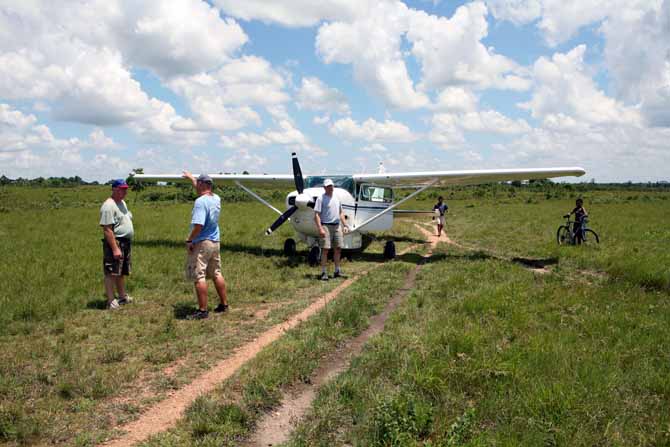 Made it in ok and the runway? looks good!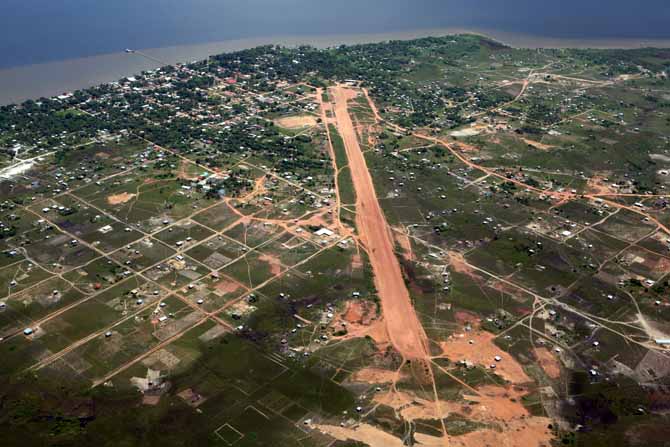 Our next stop, Puerto Lempira for some groceries.
Puerto Lempira is the Capital of La Mosquitia area.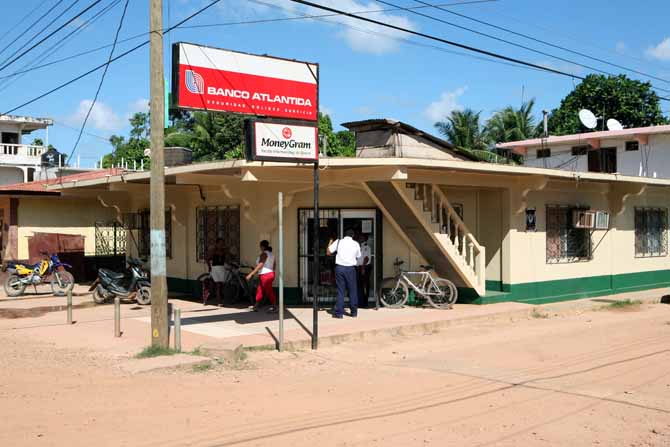 Puerto Lempira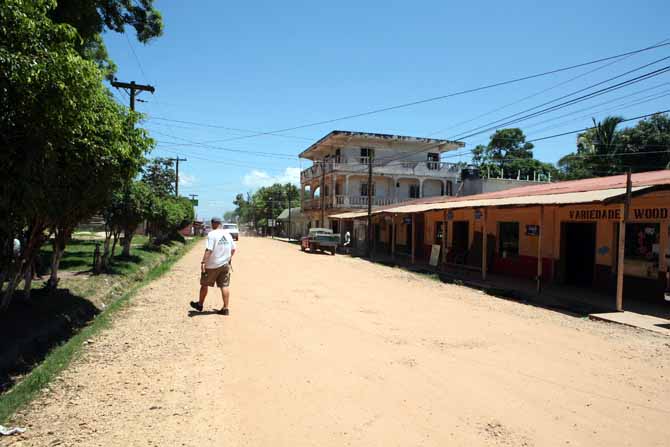 Puerto Lempira, looking for groceries.........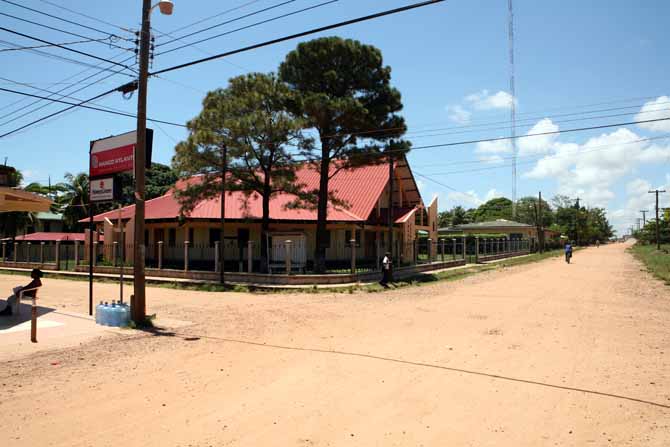 Puerto Lempira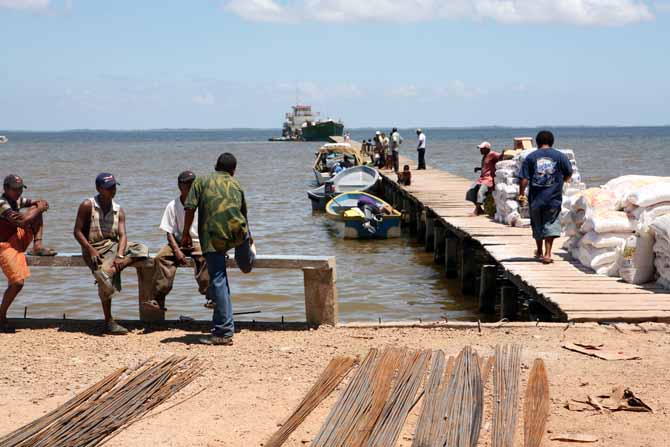 Puerto Lempira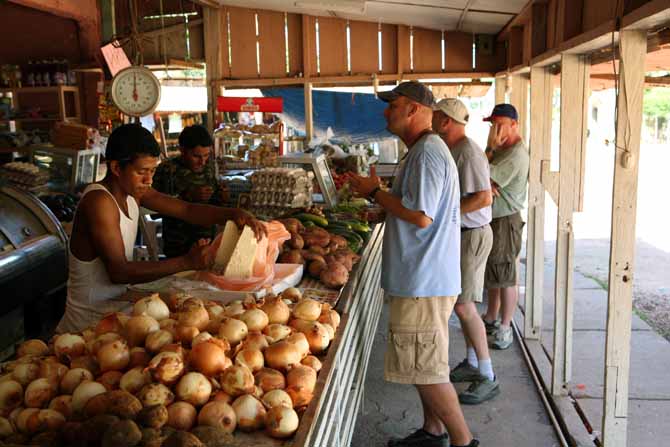 We finally found the "super market " in Puerto Lempira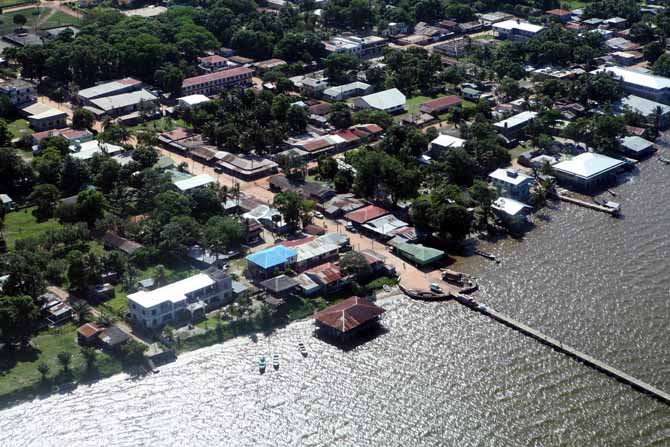 Overflying Puerto Lempira, now enroute to Uhi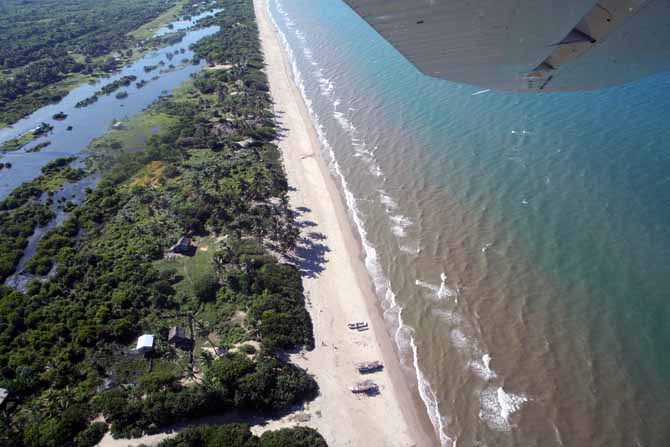 Enroute to Uhi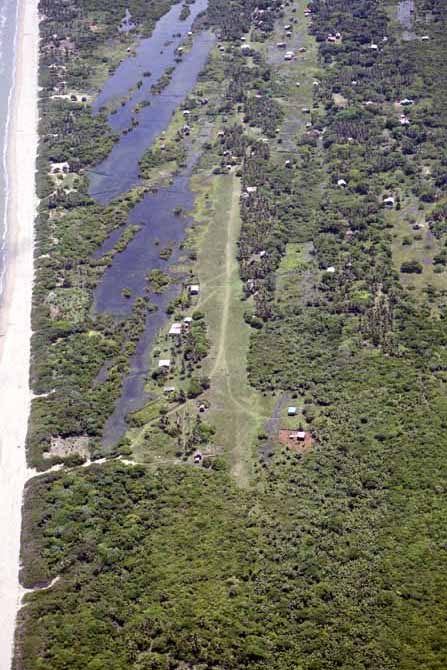 We're landing there???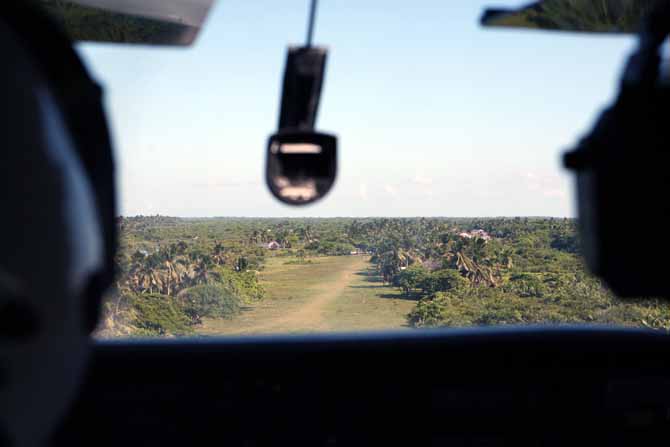 I guess so! On final approach to Uhi (This should be fun!)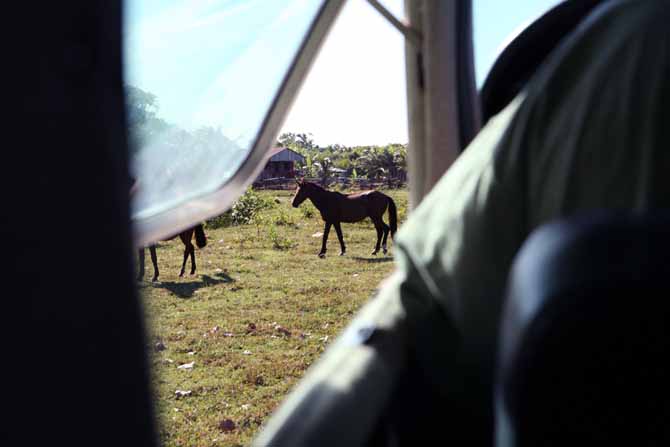 Yeah, we made it in after several low passes to scare the horses off the runway!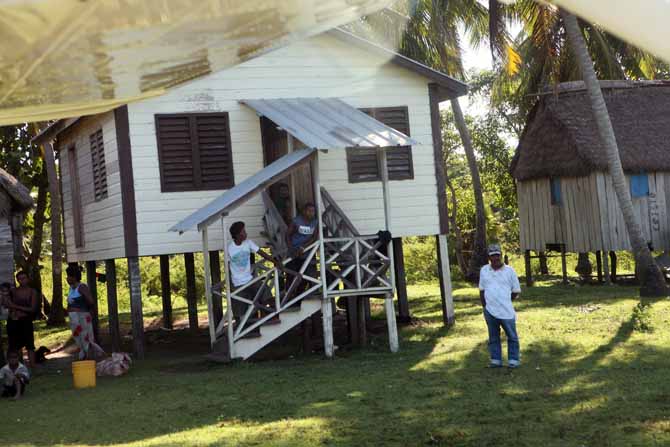 And the folks were glad to see us.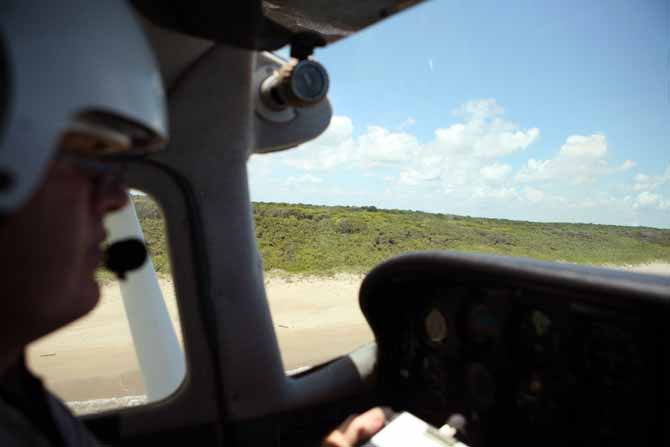 Wes gives us a scenic flight along the beach as we head home to Ahuas
(yes, we're really flying)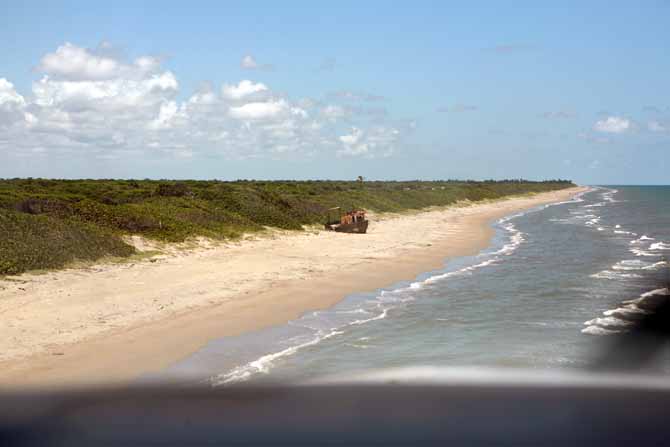 Endless miles of white sandy beaches (along with a few occasional wrecks)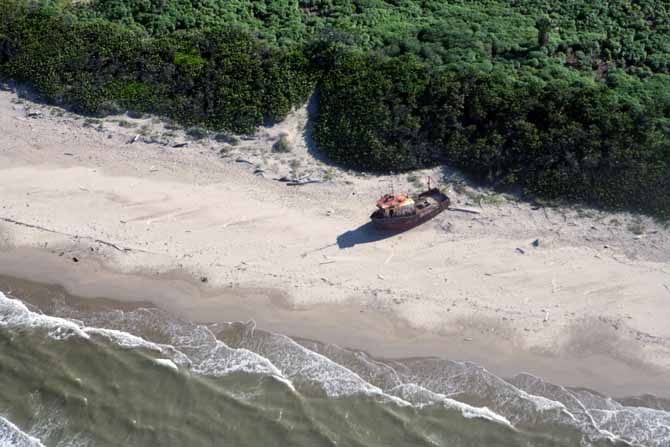 Where's Gilligan?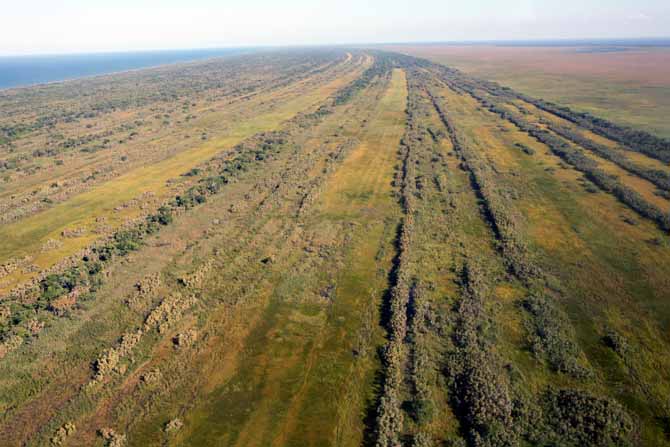 Enroute to Ahuas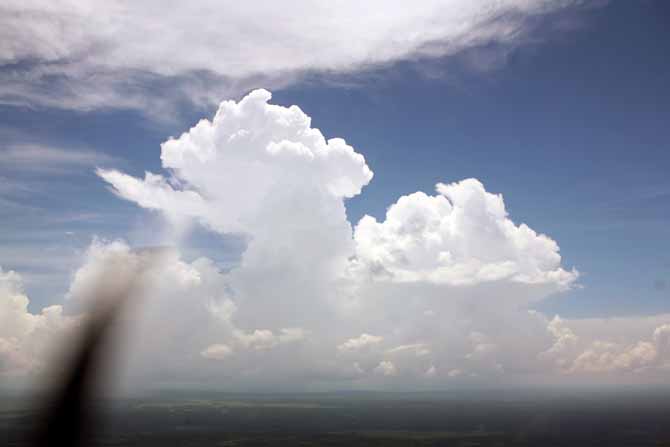 Hey Wes, stay clear of the thunderstorms, will ya?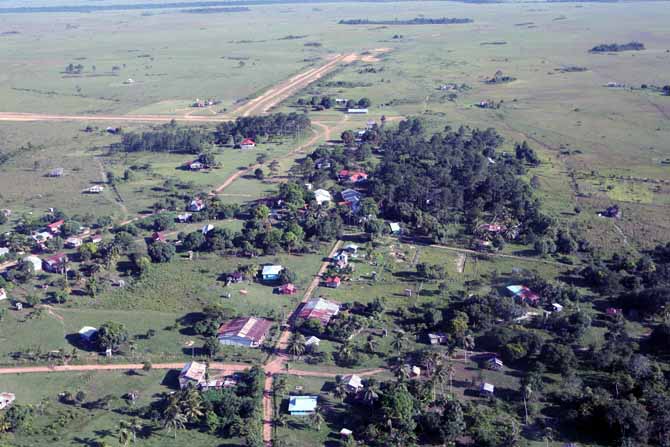 Back again to our home base, Ahuas. Note the hospital in the center, red roof, the runways at the top of the image and the Wiles home near the runway, white with red roof.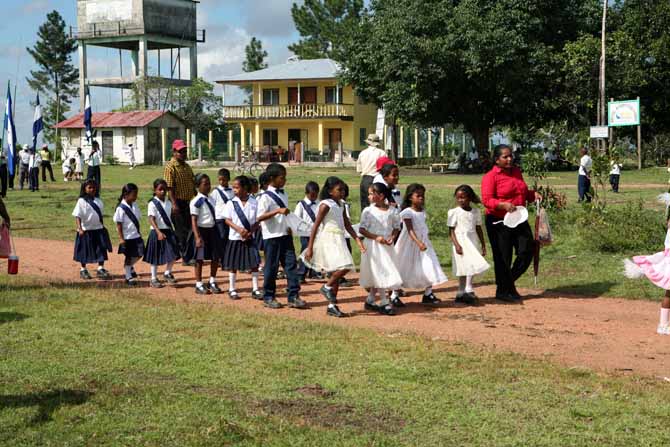 The following day a parade to celebrate Independence Day in Honduras.
(The runway is a fine place for a parade)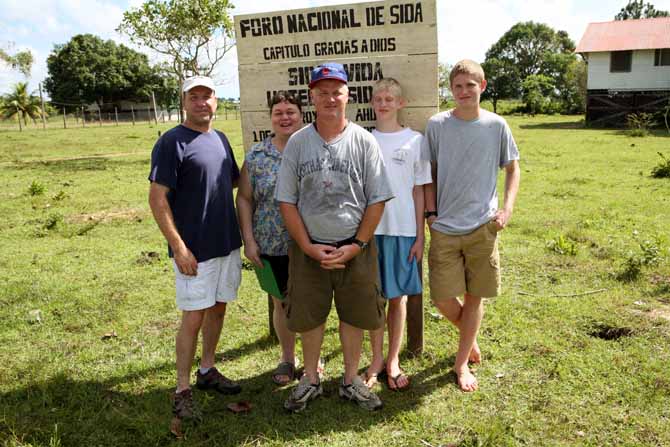 Sean and the Wiles family enjoying the parade.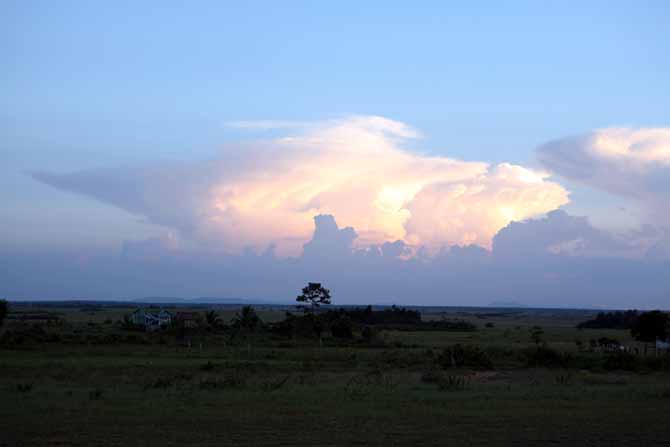 Sunset over the runway in Ahuas.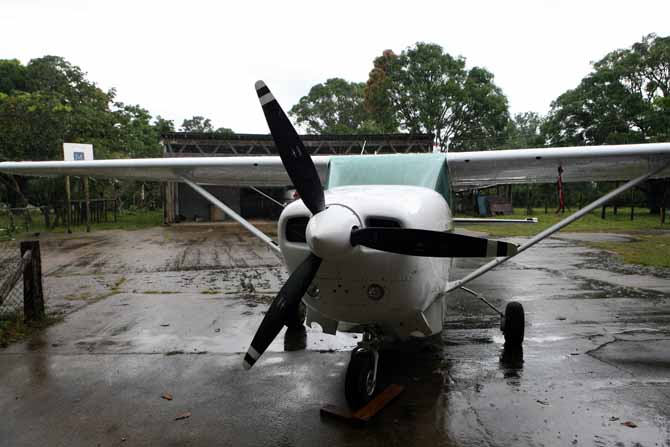 A rainy day in Ahuas, bummer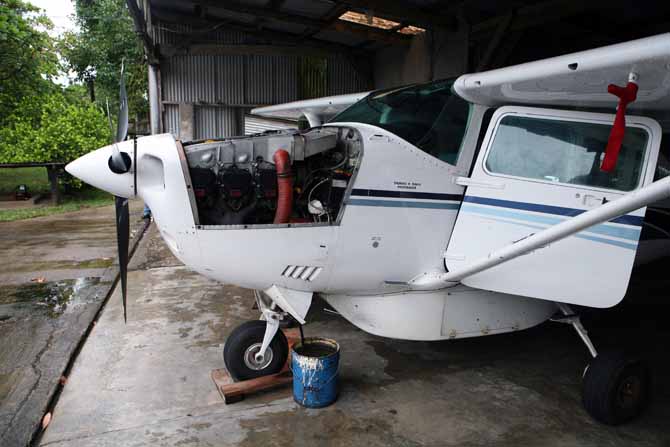 Though it is a good day to get some maintenance done......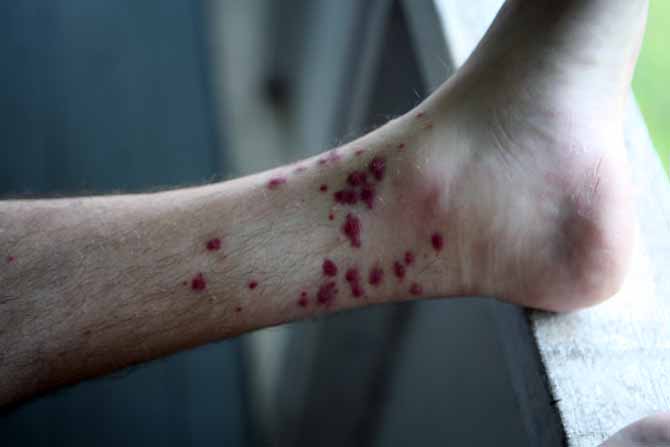 ...and for Sean to do something about all those bug bites, youch !!!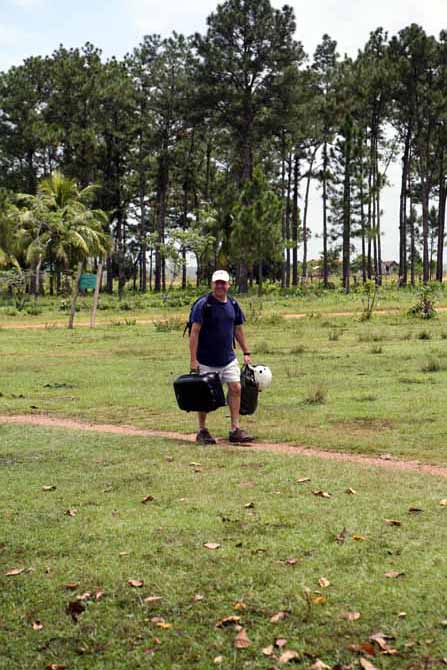 After a week in Ahuas, our work done, we prepare to head west, 1st back to La Ceiba than on to San Pedro.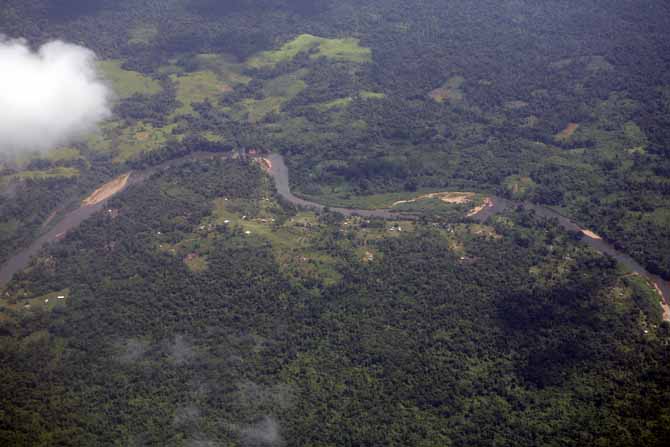 Enroute to La Ceiba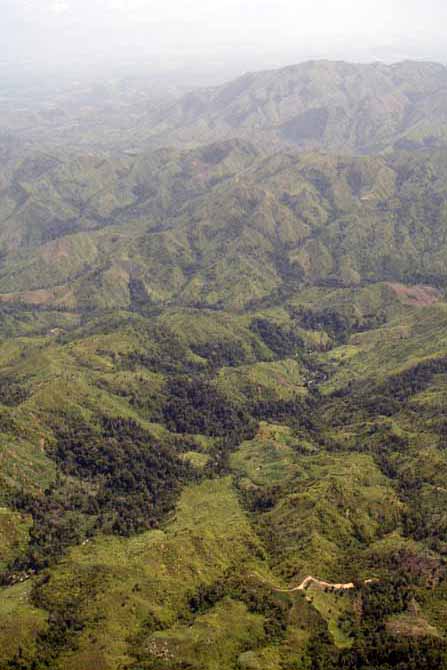 Enroute to La Ceiba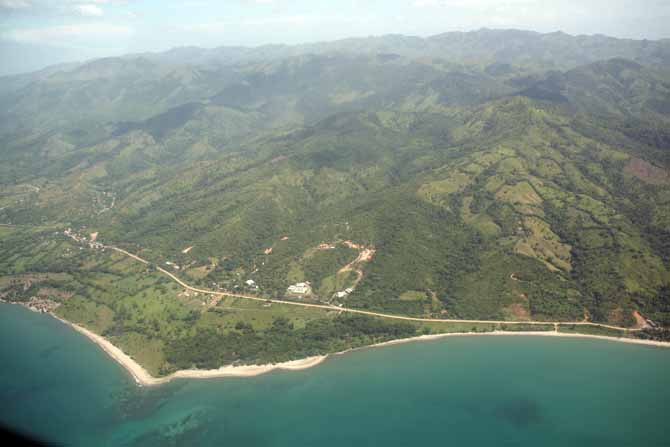 Enroute to La Ceiba, beautiful country !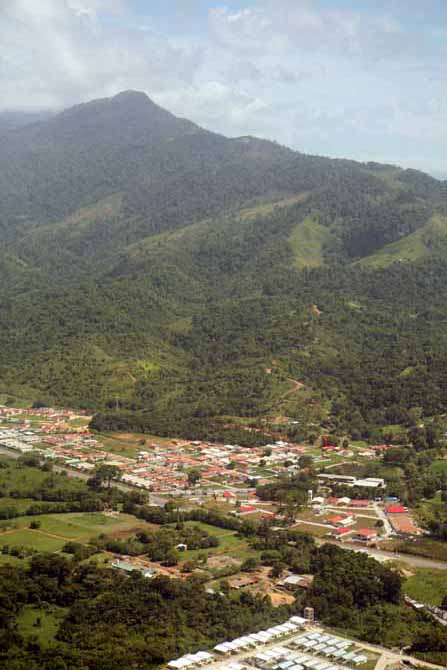 Enroute to La Ceiba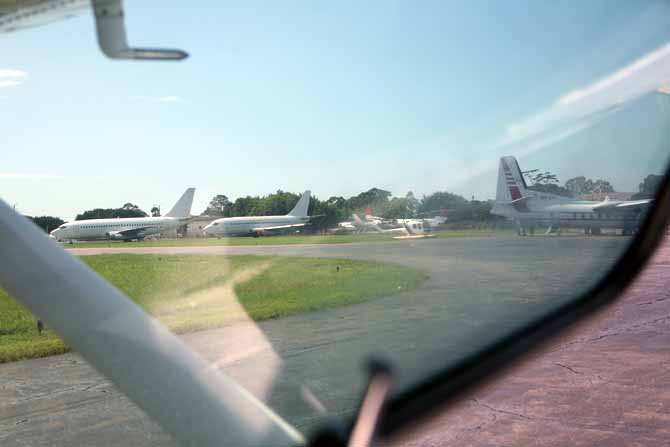 Landing at La Ceiba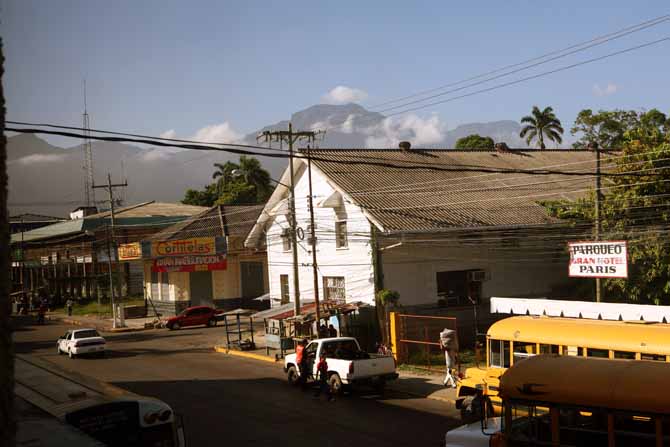 La Ceiba from our hotel window (Yes, we actually spent a few days in a hotel)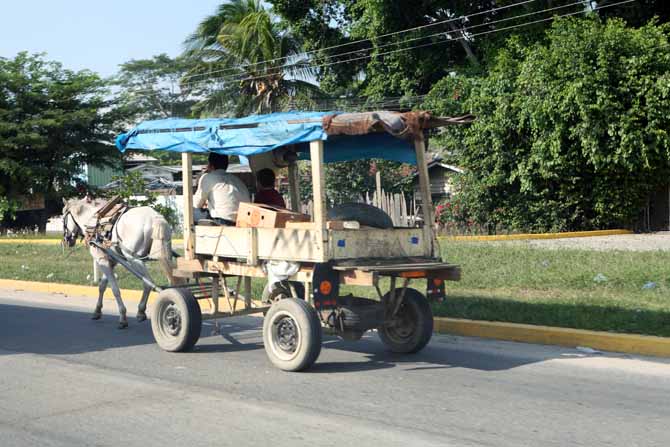 A popular Honduras mode of transportation.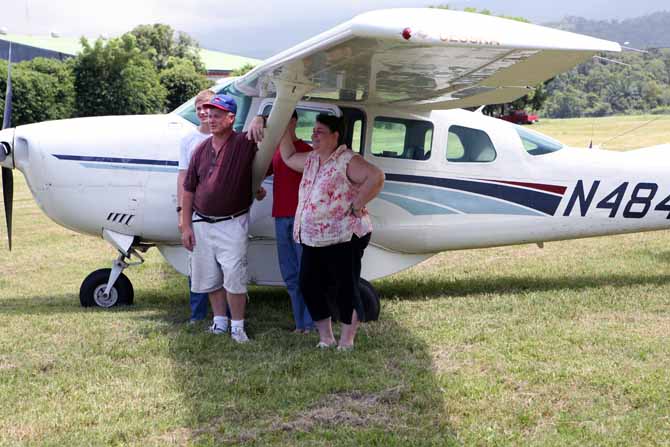 We say by to the Wiles family as we hop another ride. This time to San Pedro.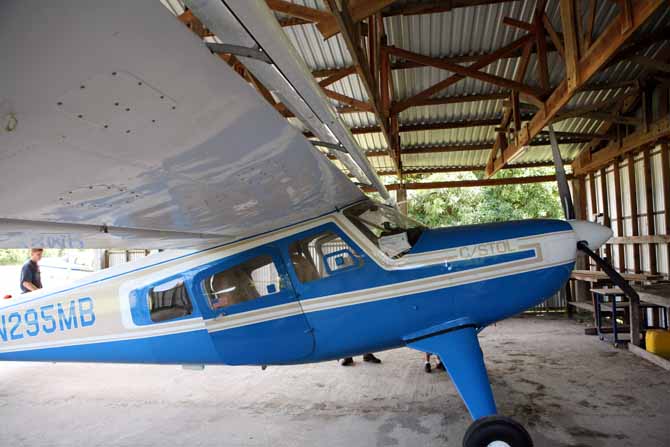 This is Kevin's Helio Courier. Kevin is another Missionary pilot, based at La Cebia and
he's preparing to give Sean & I a ride to San Pedro. (Thanks Kevin)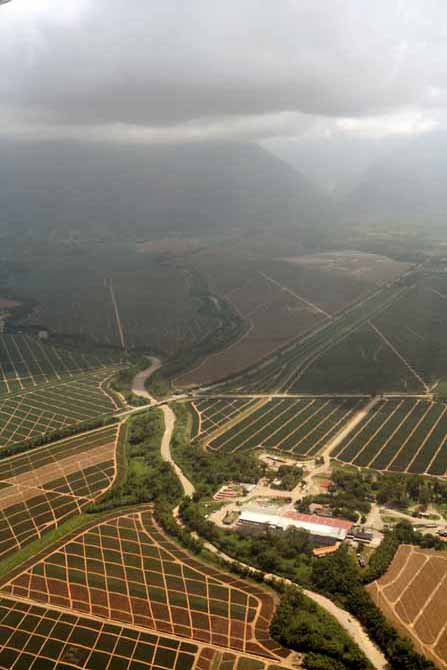 Dole pineapple plantations enroute to San Pedro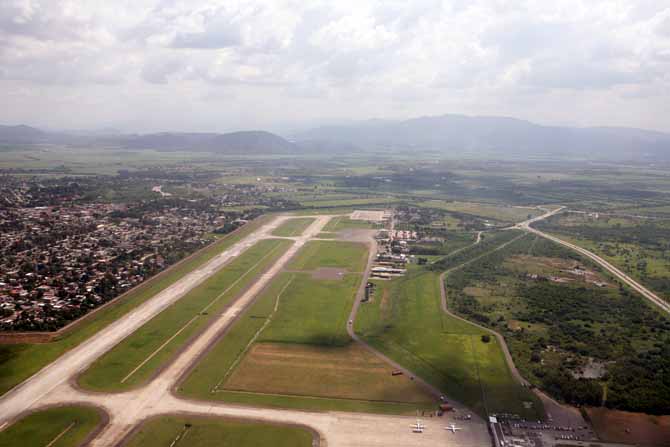 Preparing for our San Pedro landing in Kevin's Helio.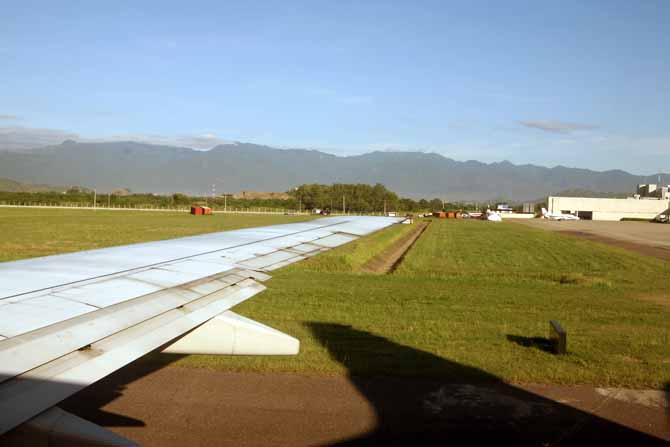 Sean & I spent the night in San Pedro. This morning we're departing, heading to Miami and onto Boston .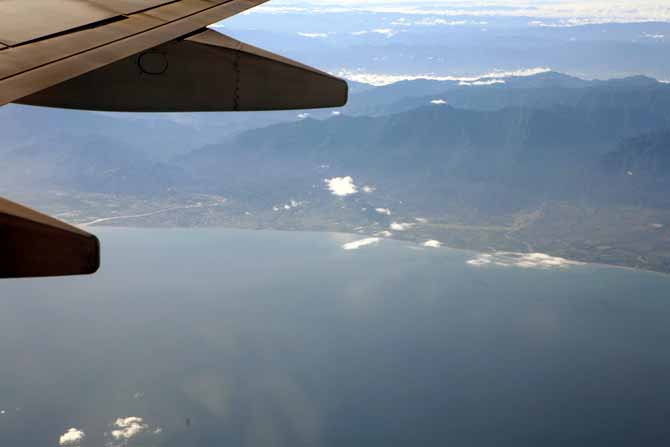 Leaving Honduras.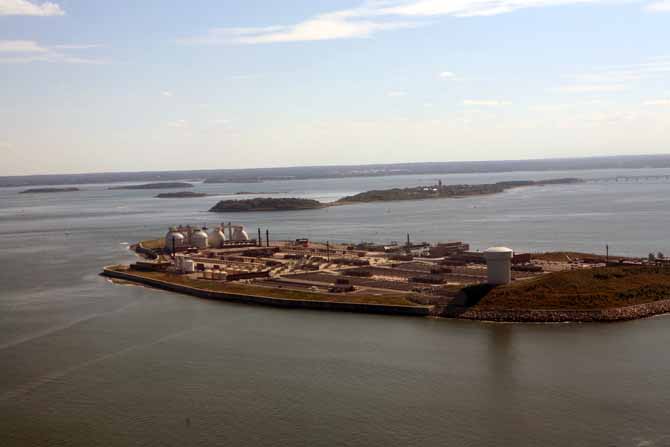 Deer Island, Winthrop. It's not a pretty site but it was sure good to see New England again!
The trip was a terrific experience that sure opened up my eyes to the conditions outside of our country and the valuable and life saving role a small aircraft, such as the one I fly daily for aerial photography, can make in this world. I have a new appreciation for general aviation aircraft and especially for the folks that put their lives on the line each and every day flying them in service to others!
Missionary Air Group is an indispensible organization that makes a huge difference for so many people in Honduras. Through the efforts of MAG lives are saved and changed!
Please visit their website; Missionary Air Group and pitch in if you can!
Thanks Sean for inviting me along,
John